Garmin 696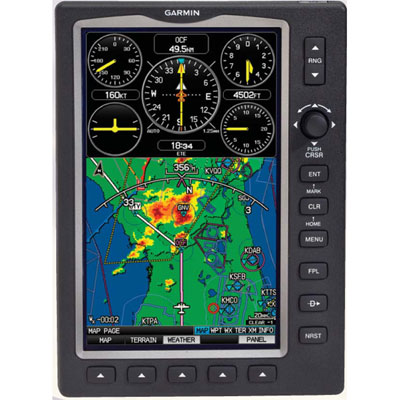 Now with geo-referenced charts – shows your airplane on the approach plate!
Combining advanced glass cockpit features with Garmin's biggest screen ever, the new Garmin 696 is truly a portable multi-function display (MFD). In one unit, Garmin has combined moving map, XM weather, terrain alerts, charts, airport information and much more. It even qualifies as a Class 1/Class 2 Electronic Flight Bag (EFB).
Here's why you'll love it:
Huge screen. The 7" diagonal screen is the largest screen available on a portable GPS, and features an impressive 800 x 480 pixel resolution. Weather graphics, terrain alerts and simulated instruments have never looked better, and charts can be shown at almost full resolution. The screen is also extremely bright, for superior readability in bright sunlight.
Easy-to-use controls. The 696 features a Garmin G1000-style joystick that allows you to click, pan and twist, dramatically reducing data entry time. Soft keys automatically change function depending on the screen being viewed, to reduce the number of pages you have to scroll through.
Charts. Finally, an easy way to view digital charts in the cockpit, with no extra wires or CDs to load. The 696 comes preloaded with all FAA/NACO approach plates, including arrivals, departures, airport diagrams and approaches. Charts can be viewed at nearly full size, or can be enlarged for easier reading. It even shows your airplane's position on the chart as you fly down final--a great help for situational awareness. Also works with JeppView charts (separate subscription required).
XM Weather. A hugely popular feature from the 496 and 396, XM weather is even better on the Garmin 696. Weather products can be viewed independently or overlaid on the main map page, all in a large, easy-to-read size. The included XM Weather antenna displays NEXRAD radar, satellite images, METARs, TAFs, TFRs, turbulence forecasts, winds aloft, freezing levels and much more (requires separate subscription).
Compatible with GDL 39 ADS-B Receiver. Get subscription-free weather and traffic in-flight with the GDL 39 (sold separately)
Simulated instrument panel. Pilots have come to love Garmin's simulated instrument panel, which displays GPS-derived instruments for speed, altitude, vertical speed, bank angle and heading. On the Garmin 696, this feature can be viewed directly on the map page as a split screen—no scrolling required—for unbeatable situational awareness.
Terrain. A dedicated terrain page shows nearby terrain and obstacles, and the 696 also includes a profile view that shows a side view of upcoming terrain. Terrain can also be overlaid on the main map page. Finally, pop-up alerts warn you of potential danger no matter what page you are viewing.
AOPA Airport Directory. The most comprehensive collection of airport and facility information, AOPA's Airport Directory shows FBO services, ground transportation, hotels, area attractions and much more. This is in addition to a full Jeppesen® database of runway lengths, frequencies and approach waypoints.
Taxiway Maps. SafeTaxi™ maps show you detailed airport diagrams for over 650 airports, including hold short lines, ramp areas and taxiway labels. And, your airplane's position is shown on the map, minimizing the risk of runway incursions.
Truly Portable. Unlike hard to use computers or electronic flight bags, the Garmin 696 includes an internal battery and internal GPS antenna. You can fly completely wire-free if needed, making it invaluable as a backup navigation source.
Measures 5 3/4""l x 7 3/4"h x 1 1/2"d; weighs 2.3 lbs.
Includes: GPS unit with internal battery and GPS antenna, external XM weather antenna, external GPS antenna, protective cover, USB interface cable, yoke mount, wall charger, 10-36V power plug, free Jeppesen® update, quick reference guide, owner's manual.
Chart updates: digital charts are updated every 28 days, and can be easily downloaded from fly.garmin.com. One-time updates are $95; a one year subscription is $395.
Americas Coverage includes North, South and Central America including Hawaii.