Garmin 796 GPS
$2499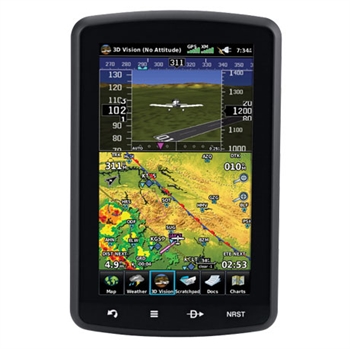 GARMIN- aera 796 The aera 796 is the future in your flight bag. The aera 796 features a unique 3D Vision perspective view of the topography beneath your aircraft. The aera 796's "virtual reality" flight graphics can be framed with GPS-derived indications of ground track, altitude, groundspeed, vertical speed, and turn indication-all updated 5 times per second. The large 7-inch hi-res touchscreen brings tap-and-go simplicity to navigation. And geo-referenced FliteCharts, IFR Enroute Chrts, VFR Sectional Charts, SafeTaxi diagrams, AOPA Airport Directory, and more, all come pre-loaded! A built-in digital document viewer expands the unit's utility as an electronic flight bag (EFB), letting you view an entire approach at a glance. You can add airways, satellite weather with NEXRAD, and XM audio entertainment.
aera 796 Mapping Includes:
Americas Navigation Data, U.S. SafeTaxi, U.S. VFR/IFR Charts, U.S. Flite (Approach) Charts, U.S Obstacles, and AOPA Airport Directory.
aera 796 Package Includes:
GXM-40 XM Antenna
GA-25 Remote GPS Antenna w/Suction Mount
Yoke Mount
Cigarette Lighter Adapter
Home A/C Charger w/Cradle Dock
USB Cable
Touchscreen Cleaning Cloth
Pilots Guide/Quick Reference Guide
Garmin 796 GPS, 796, Garmin 796
Avionics- Multi Function Displays | Avionics- Nav/Com | GPS Panel | GPS Handhelds | Instruments | Intercoms | Watches | Headsets- ANR | Headsets- Passive | Transceivers
Garmin | Lightspeed | Vertex Standard | Icom
Avmap EKP-V GPS Garmin AERA 796 ifly 720 GPS Bose A20 ACR ResQLink Garmin 696
.© Copyright 2005-2012. All Rights Reserved
Garmin 696 | Garmin Aera 796 | ifly 720 gps
Radio Control Jet | Radio Control Helicopter